Sales Information
Ordering & Design Process
You may order a completed custom-made sundial made for shipment anywhere, or you can order just the sundial design drawing so that you can make your own sundial using the drawings and instructions we send you. Designs and finished dials are unique commissioned works based on the latitude, longitude and the position of the sundial, and each customer's particular tastes and requirements. You get to select your sundial type, shape, size, artwork, inscriptions, and extra options like gold-plating or gold leaf. Don't worry, I will walk you through the simple ordering and design process. Just contact me, and we will discuss your sundial specifications at no charge. When we know your desired sundial specifications, we will send you an Order Form for your approval and deposit. Sample copies of an Order Form are available upon request. We will not make your sundial until you approve the final design. Often we make several design changes until everybody is happy. Designing the sundial is half the fun!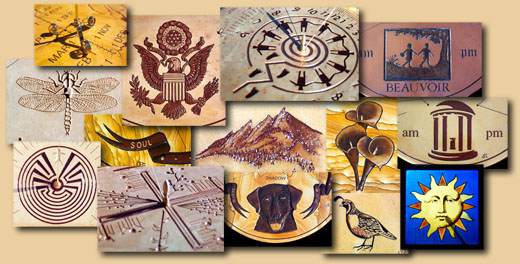 Choosing a Design
If you don't know what kind of a sundial you want, I'll help you decide by showing you sample graphics and photos to choose from. Just contact me. People love visiting my sundial studio to personally discuss their orders and to see my demo dials. But usually we just use email and/or the phone. Meanwhile, before we talk, I suggest that you look at the Sundial Photos page on this website which will give you an idea of the many types of sundials I make. The Sundial Artwork page shows you artwork on my previous sundials, and there is a Sundial Artwork CatalogRequires Adobe Acrobat Reader® you can download too. Or we can use your own artwork or photos if you prefer.
♦ See Sundial Artwork Catalog (PDF) Here.
♦ See Sundial Shape Options (PDF) Here.
Information We Will Need From You
During our discussions, you will need to supply us with the following information:
Your name, billing address, e-mail address, and telephone number.
Location for your sundial (street address, city, state and country, or the postal code, or the latitude and longitude).
Type, shape, size and material of sundial.
Artwork and inscriptions.
Time notation (Standard Time or Daylight Saving Time or both).
Text font for hour numerals.
Special options (gold-plated brass, thick gnomon, special stone shape or type, etc.).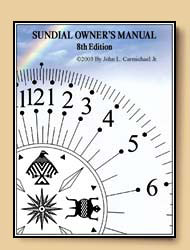 Pricing
Because all our sundials are so different with so many customizable options, it is impossible to have set fixed pricing. We individually price each project based on its size, materials and complexity. Generally, the larger and more complex the sundial is, the more expensive it is. We can tell you this: 26 inch stone sundials range from $1,900 to $3,200 (USD), and sundial design order prices start at $600 (USD). You pay nothing until you approve the Order Form with our price quote. The price includes free consultation by email or phone, a copy of the very informative Sundial Owner's Manual, and a weather-resistant copy of The Equation of Time. On-site consulting, crating and shipping are extra. Delivery and installation is free in Tucson. You will need to provide your own sundial support pedestal for stone sundials, easily found at local fountain or garden centers. Or, you can custom-make your own.
Payment
After we have thoroughly discussed your sundial design and finalized your Order Form, Sundial Sculptures must receive your payment before I begin making the drawings. I will send you a precise drawing of your sundial for your inspection and approval before I begin sundial construction. Sundial Sculptures will return your payment only in the unlikely event that we are unable to complete your order. Please do not send any payment until you have discussed and finalized your order with John Carmichael.
Payment for Finished Sundials: Sundial design work is included in the price at no extra charge. We require a 50% non-refundable deposit when ordering. The balance is due upon completion, before shipping.
Payment for Sundial Design Drawings Only: Full payment is due upon ordering just sundial design drawings.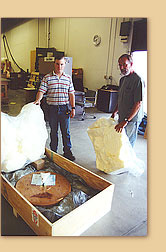 Packing, Shipping & Installation
We will deliver and install most sundials in Tucson at no charge and in Phoenix for $300 (USD). If you live elsewhere, you may arrange your own sundial shipping or let our recommended trusted shipping agent charge you the going rate for packing, shipping and insurance. You can easily install your own sundial by following the supplied instructions, and I'm always available by phone or email to help you if you need me.
Completion Date
Depending on how many orders are on the waiting list and the type of sundial you order, the completion date for finished sundials will be at least six weeks or more from the date we receive your deposit. Sundial designs usually take at least two weeks. We will give you a rough estimate of the completion date when you place your order.